Swachh Bharat Abhiyan Essay | Swachh Bharat Abhiyan Essay in English | Swacch Bharat Essay | Swachh Bharat Abhiyan Par Essay
Hello everybody, today we are going to write Swachh Bharat Abhiyan Essay in English. This article is free to use. You can read it, Copy it, or even download it from the PDF given below. So let's not waste any more time and start the Swachh Bharat Abhiyan Essay in English.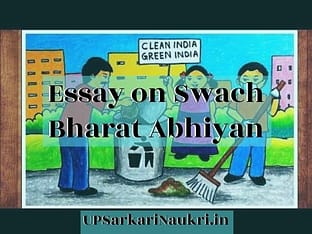 Swachh Bharat Abhiyan Essay in English
Cleanliness is not necessary only till our house or road. This country and the nation would have needed it, because not only our house and courtyard will remain clean, the whole country will remain clean. Keeping this in view, the Swachh Bharat Abhiyan being run by the Government of India has been started in every village and city of our country. The purpose of this campaign is to build toilets and to change the country's infrastructure, from every street, village to every street of the country.
Swachh Bharat Abhiyan launch
The Prime Minister of India, Shri Narendra Modi, launched the Swachh Bharat Abhiyan on 2nd October 2014, the birth anniversary of Mahatma Gandhi. On the occasion of Mahatma Gandhi's birth anniversary, Hon'ble Shri Narendra Modi started this campaign on the occasion of 145th birth anniversary of Mahatma Gandhi. On October 2, 2014, while addressing the masses at Rajpath, he urged the nationalists to participate in the Swachh Bharat Abhiyan and promote it. This is the biggest campaign in terms of cleanliness asked to make it successful. To change the image of India regarding cleanliness, Shri Narendra Modi ji started it by making a mass movement to connect the country with a campaign.
Mahatma Gandhi's dream
Our revered Father of the Nation Mahatma Gandhi was clean before independence and under it he considered cleanliness as equal to devotion to God, he imparted the education of cleanliness to everyone, his dream was that (Clean India), under this he would make all the citizens together and clean the country. He used to think about keeping, under this, in the ashram where he lived, he used to wake up at 4:00 in the morning and clean himself. He had built his own toilet in Wardha Ashram, which he used to clean every morning and evening. To fulfill the dreams of Gandhi ji, Shri Narendra Modi started the Swachh Bharat Abhiyan.
Objectives of Swachh Bharat Abhiyan
Ending open defecation, under which thousands of children die every year.
To get about 11 crore 11 lakh individual, group toilets constructed in which 1 lakh 34 thousand crore rupees will be spent.
Changing the mindset of the people by using proper sanitation.
To promote toilet use and initiate public awareness.
Keeping the villages clean.
Installation of pipelines in villages by ensuring water supply to all households by 2019 so that cleanliness is maintained.
To ensure good management of solid and liquid waste through Gram Panchayat.
Keeping roads, pavements and settlements clean.
To create awareness about cleanliness among all through cleanliness.
Other Contributions in Swachh Bharat Abhiyan
In the Swachh Bharat Abhiyan, not only the common people, but also the people who are supported by the Prime Minister along with the Prime Minister, big personalities like Mridula Sinha, Baba Ramdev, Shashi Tharoor, Kamal Haasan, Salman Khan, Priyanka Chopra are showing their contribution.
Whatever change you want to see in the world, first implement in yourself

MAHATMA GANDHI
This statement made by Mahatma Gandhi which is based on cleanliness. According to him, the torch of awareness of cleanliness should be born in everyone, under this the work of Swachh Bharat Abhiyan has started in schools also, cleanliness not only keeps our body clean. Our mind also remains clean. The torch of Swachh Bharat Abhiyan is necessary for our entire India today, under which many works are being done.
Keeping this in mind, Uttar Pradesh Chief Minister Yogi Adityanath has also banned tobacco, gutka, paan, etc. products keeping in mind the cleanliness and hygiene of government buildings. Which is needed not only in Uttar Pradesh but in the whole of India.
So this was our first Essay, on Swachh Bharat Abhiyan. We are also attaching another short essay down below.
Swachh Bharat Abhiyan Essay in Hindi for Class 5,6,7,8,9 & 10. Short Essay
Cleanliness is directly related to our physical and mental health. Therefore, it would not be wrong to say that a healthy mind resides in a clean body, a hundred years ago Mahatma Gandhi dreamed of a clean India, which is being realized today.
Swachh Bharat Abhiyan was started by our respected Prime Minister Shri Narendra Modi, whose main objective is to make India clean and healthy. This campaign was launched by our Prime Minister on the birthday of Mahatma Gandhi on 02 October 2014 and at the same time the date of its completion was fixed on 02 October 2019, the 150th birthday of Gandhiji.
We know that cleanliness has an important place in our life, but we have taken its meaning only from the cleanliness of our body, this is wrong, by limiting cleanliness only to the cleanliness of the body, we have made its meaning narrow. . Cleanliness is the second most important thing after Bhakti, according to Gandhiji, "You cannot make your village and town healthy unless you take a broom and a bucket in your hands." Swachh Bharat Abhiyan was started by our Prime Minister himself. Thought it was. Successfully implementing the Swachh Bharat Abhiyan was very difficult in a country like India, but the determination of our Prime Minister made the dream of Gandhiji come true.
Very recently, our Prime Minister was honored with the Goalkeeper Global Goals award in America, this award was given to him for his successful implementation of the Swachh Bharat Abhiyan. Under the Swachh Bharat Abhiyan, Indore city of Madhya Pradesh is being rewarded for being the cleanest city in India for three consecutive years.
Revolution has been created. Now people not only talk about keeping themselves clean but also keeping their village, district, and city clean, and are also donating their whole lot in this direction. There are also many such social organizations in India that are contributing under the Swachh Bharat Abhiyan, people of these organizations go to villages, towns, and cities to make people aware of cleanliness and make them aware of the benefits of cleanliness. Let's do it was a big challenge to run and edit this campaign well in the country of 125 crores India, we are proud that the Indian government was successful in doing this because this campaign took the form of public sentiment. Swachh Bharat Abhiyan is one such initiative in which people of every caste, class, and religion took part enthusiastically and made it successful.
Although the term of this campaign is over now, this campaign has lit the torch of cleanliness in the hearts of the people which is not going to be extinguished now, if we all make Swachh Bharat Abhiyan a part of our life then that day. Not far away when not only one city in India but the whole of India will become clean, thus the dream of Swachh Bharat – Healthy India will also come true.
Download Swachh Bharat Abhiyan Essay in PDF format
You can also get Swachh Bharat Abhiyan Essay in the form of PDF by clicking on the link given below.
Swachh Bharat Abhiyan Essay in Hindi
Video Credit: Studyguru Pathshala
Read More Essays like Swachh Bharat Abhiyan Essay:
Faq
What is Swachh Bharat Abhiyan in short?
Swachh Bharat or Swachh Bharat Abhiyan (Hindi: Swachh Bharat Abhiyan, English: Clean Indian Mission) is a national level campaign by the Government of India covering 4041 statutory towns to clean the streets, roads and infrastructure of the country.
What is Swachh Bharat Abhiyan introduction?
Introduction: The Swachh Bharat Abhiyan is a Clean India effort and mission undertaken by the Indian government as a nationwide campaign to keep the country's streets, roads, and infrastructure clean. The Prime Minister had cleared the road before commencing the event.
What are the objectives of Swachh Bharat Abhiyan?
Swachh Bharat Abhiyan's Objectives
Cleanliness and hygiene should be promoted holistically.
To limit the number of people who defecate in the open.
The goal is to improve the quality of life in rural communities.
To promote the concept of environmentally friendly sanitation.
To raise awareness of health and hygiene issues.
Why Swachh Bharat Abhiyan was started?
To accelerate the efforts to achieve universal sanitation coverage and to put focus on sanitation, the Prime Minister of India had launched the Swachh Bharat Mission on 2nd October 2014.