Speech on Education System in India | 3 min to 1 minute speech on Education | Education System in India Speech | Indian Education System Speech
Lower primary, middle primary, higher primary, and high school are all part of the school education system. In India, education is free and obligatory for children aged 6 to 14. Central schools, state-run institutions, aided and unaided schools and colleges, and lastly private institutions provide education. Education is administered by a number of boards, including CBSE, ICSE, and state-affiliated boards. Educational institutions are certified by the National Accreditation and Assessment Council.
The Speech Starts from below you can read it, copy it or download PDF from link given in the last.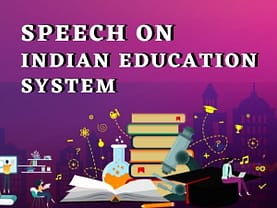 Speech on Education System in India 500 Words
We have supplied Indian Education System Speeches in English for kids in classes 6, 7, 8, 9, and 10.
Good morning to those of you who are here. Today, I'm going to speak about India's educational system. Education is an important factor that has a significant impact on our daily lives. To thrive in today's competitive world, people require a high-quality education. Education is an important aspect of life that must be pursued in order to live a happy life. The Indian education system is fairly old, and it is steadily modernising. Every year, it creates a large number of brilliant minds. Many great mathematicians, doctors, astronomers, writers, engineers, lawyers, entrepreneurs, and other professionals have come from India.
They have previously demonstrated their expertise in a variety of industries around the world. However, as technology advances, we must recognise the need to replace our outdated educational system. Let me shed some light on India's current situation. The traditional education system, which lacks improvements, must be criticised. There are a number of reasons why it is not thriving over time, including a flawed grading system that rates a child's intelligence only on the basis of a piece of paper.
This is unjust because a single exam can determine a student's entire career. Because of the system, youngsters are more concerned with getting good grades in exams than with their entire growth. It also fosters unethical actions such as exam cheating. One of the effects of this type of school system is the mucking up of subjects without grasping the concept. Exams appear to be a source of stress for students. Instead of focusing on grades, education should be about discovering new things.
The Indian educational system places a greater emphasis on theory than on actual practise. Classroom instruction also adheres to the older way of instruction, which consists solely of books rather than any engaging equipment. For the younger generation, it is becoming increasingly dull. The usage of computer-assisted approaches is extremely limited. In India, online education is still in its infancy. Other socioeconomic difficulties confronting the Indian education system include corruption, a lack of awareness, and poverty, all of which contribute to rural children dropping out of school at a young age.
The question now is, how can the system be improved? Students should not be burdened with unnecessary responsibilities. Instead of tedious lectures, they should be immersed in rigorous learning programmes. They should be graded on their entire progress rather than their exam scores. Improvements in classroom instruction, as well as effective teacher training, are essential and should be implemented as soon as possible. Computer-assisted education must be taught in every school in India.
Physical activities, yoga, art, singing, dance, theatre, and many more subjects must be given equal weight as any other subject because many individuals will pursue these as a professional vocation in the future. More hands-on learning experiences with skill development should be included in the educational system. Our government has already revised a number of measures to address the flaws in the current system. So we've already started, but there's still a long way to go.
Education is one of the fundamental rights of all inhabitants in a developed country like India, with outstanding educational quality. It will propel us forward on the road to success and economic progress. The Indian educational system needs to be overhauled so that kids have more opportunity to learn and excel in the future. We will grant ourselves a brighter future if we can provide a better education. I'm going to close my speech with a well-known quote.
"Change the face of education on Earth by transforming one school from a robot factory to a cradle of heroes."
Download PDF of Speech
So this was the Speech you can click one the button given below to download in PDF format. This is was first Speech on Education System in India written by UP Sarkari Naukri.
Next Long Speech on Education System
Now after first speech we are going to write a long Speech on Education System in India, this speech on Education System in India will start from the next heading. You can read it, Copy it or Download it in PDF format from the link given below.
Long Speech on Education System in India (Starts)
Good morning to those of you who are here. Today, I'm going to give a short lecture about India's educational system. I hope this speech has taught you something new.
The process of receiving or imparting primary knowledge, particularly at the school or university level, is defined as education. Education is a crucial aspect that contributes to the country's improved literacy rate. The Indian government has primarily concentrated on providing education to all citizens since independence, and it has developed new initiatives to improve Indian education for many years.
The Indian education system is divided into four stages: lower primary, which is for children aged six to ten years, and upper primary, which is for children aged eleven to twelve years. High school, in which students begin school at the age of 13 and graduate at the age of 16, with the completion of higher secondary school occurring between the ages of 17 and 18.
The Indian education system has always been structured for a child to learn from a book and write tests in order to acquire good scores. While it aids in the development of children's reading and writing skills, it does not aid in the acquisition of life skills.
We frequently hear on the news that India's unemployment rate is rising, and that many graduates with advanced degrees are unable to find work. So, what's the deal with that? Our educational system is the answer. The Indian educational system was created to teach students how to achieve good grades and score high scores, but it was never intended to teach them how to survive in this world.
I completely agree that the education and knowledge we gain from reading diverse books is unrivalled. However, while the Indian education system gives theoretical knowledge to students, it is also critical to educate them how to apply that knowledge effectively, which many students fail to do, and this is one of the reasons why India's unemployment rate is increasing at an exponential rate.
It is the teachers' obligation to allow students to think in new ways. Teachers should also instil in students the importance of classroom learning and teach them how to put it into practise. Furthermore, teachers must be open to the idea of learning new things from their students.
If significant efforts are taken, our educational system could be improved. Instead than encouraging kids to study for exams by just mugging up textbooks for the sake of getting a good grade, more practical knowledge should be imparted to them. The educational authority should provide students with opportunity to put what they've learned in the textbooks into practise.
Our educational system should also provide opportunities for kids to gain financial skills that will assist them in surviving in this world. Education authorities should teach pupils how to budget money, save money, and invest it in various assets such as stocks, gold, silver, and other precious metals. This will aid pupils in their future preparation.
According to the United Nations Organization (UNO), India is ranked 145th out of 191 countries in terms of educational provision. We aren't even among the top 50 countries on the planet. This demonstrates the extent to which we must improve in order to keep up with the times. If we want our country to progress and thrive, we must first improve the education we provide to our students. As the phrase goes, "Today's children are tomorrow's future," thus we should begin by modernising India's education system at the primary level. Instead of merely allowing pupils to absorb theoretical knowledge, educational authorities should implement practical ways that allow children to put what they've learned in the books into practise.
If we can bring a wave of change by modifying our educational system, we must do it for the sake of a brighter future. Thank you very much.
Download Link for PDF of Long Speech
So this was the Speech you can click one the button given below to download long speech in PDF format. This is was Second Speech on Education System in India written by UP Sarkari Naukri.
One Liner About the Speech on the Education System
The knowledge gained from textbooks is accorded the greatest weight in the Indian educational system.
The process of imparting or receiving information from schools or colleges is referred to as education.
The Indian education system is regarded as one of the world's oldest.
Despite being the oldest, it is not the finest because it contains numerous flaws.
Lower primary, upper primary, high school, and higher secondary school are the four phases of Indian education.
Students should be able to apply what they've learned in the classroom to real-world situations.
Many individuals cannot afford education, so education fees should be cut.
Scholarships have been provided by the government to students who wish to pursue higher education.
Teachers should urge kids to think outside of the box.
Despite the fact that many students have a degree, India's unemployment rate has risen. This is due to a lack of practical expertise among pupils.
Read More:
[quads id=3]
FAQ
How can I learn how to deliver an educational speech?
The articles on UP Sarkari Naukri might help you have a better understanding of how to deliver a speech. You can also look through the subject-specific articles. You can get additional information by downloading the downloadable materials from the website. The articles on Vedantu's website contain content that should be delivered in the form of a long or short speech.
How can you come up with new ideas for an effective education speech?
Brainstorming sessions are an excellent way to generate fresh ideas. The more time you spend considering various elements of a topic, the more relevant the information will be and the more likely it will capture the audience's attention. Because education is one of the most popular and significant topics, presenters should always focus on the most vital issues. The speaker should constantly establish direct communication with the audience by asking them a few questions that they may answer with a simple 'yes' or 'no' to keep the speech entertaining. They could also consider some original tactics and ideas for making their speech more relatable.
Is there any problem with the Indian education system?
The Indian educational system has numerous severe flaws. In both rural and urban areas, there is a scarcity of inexpensive schools. When it comes to rural areas, many of them lack access to education. They don't have the necessary infrastructure or well-trained teachers.
How is the education system in India?
In India, there are four stages of education: lower elementary (ages 6 to 10), upper primary (ages 11 and 12), high (ages 13 to 15), and higher secondary (ages 16 to 18). (17 and 18). Lower primary school is divided into five "standards," upper primary school is divided into two, high school is divided into three, and higher secondary school is divided into two.